Mats come in all kinds of materials, colors, sizes, and flavors. Some smell like flowers, some look like they should be in a museum, and others feel so soft I want to wear them around my shoulders like a bunch of blankets. Over my years as a yoga practitioner, yoga teacher, and yoga learner, I've tried as many mats as I can to find the right one for me. As I learn and grow in this life, my wants shift and change along with the brand of my new favorite mat.
Here is a comprehensive comparison of six mats that I've tried and loved.

Comes in a wide variety of super cool colors

Made of 100% rubber with no PVC, EVA, or other synthetic rubber which makes it seriously non-slip, especially when sweaty (very important to me since my hands and feet sweat profusely)

Comes in three lengths - 68", 71", 74" - and two widths - 24" or 28" - so you can customize it to your body

Jade plants a tree for every mat sold and some colors have different charities they contribute to as well
Made with sustainable, all natural cork on one side and rubber on the other

Cork is antimicrobial and literally repels germs and odor with its closed cell design

Weighs only 2 lb so hello healthy back lifting you out of my trunk!

Feels insanely cushiony because of the rubber bottom
Designed by Sara Chambers (founder of Hugger Mugger) and based on her original, first ever USA-made mat made specifically for yoga practice

Available in three lengths - 68", 74", 80" - and weighs only 2.4 pounds

Made of heavy metal & phthalate-free PVC that is long lasting and durable

Extremely affordable!

Made from biodegradable, non-Amazon harvested, natural tree rubber with non-toxic foaming agents and non-AZO dyes

Super durable and long lasting with a tacky, rippled texture that sticks to your hands

Comes in many thicknesses - 1.5mm, 4mm, 5mm, 6mm

Feels bouncy and dense but light
Crazy easy to travel with as it folds into a square the size of a yoga block!

Thickness (1.5mm) and weight (1.5 lbs) contribute to the portability of this mat and ensure that wherever you go, you will be able to practice safely

Surprisingly durable for the size

Grippy traction is not compromised in any way with the surface of the mat

Improves with use over time so what might feel slippery at first will get better as it gets used to you

OEKO-TEX certified, emissions-free manufacturing, and sustainable engineering ensures high quality material will not peel, flake, or fade

5mm thickness protects joints and provides superior cushion

Closed-cell surface keeps moisture and sweat from seeping into the mat and breeding bacteria
What's your favorite mat?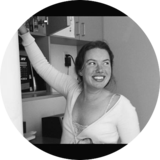 By Fae Leslie Hoffman; All Rights Reserved @2019