Traditionally known as Russian Tea Cakes or Mexican Wedding Cakes, these cookies have a shortcake like texture that melts in your mouth. With origins from the Middle East, these cookies were brought to the west during the Medieval Ages and adapted across many cultures, becoming a timeless holiday favorite.  For my adaption, I added spices for an extra fun twist and to pay homage to St. Nicholas' Mediterranean origins.
These cookies are low on sugar to avoid a sugar high and inevitable crash that comes with it - perfect for Santa late on Christmas Eve. My  adaption of the traditional recipe is dairy-free and gluten-free, but you may choose to use regular flour and butter.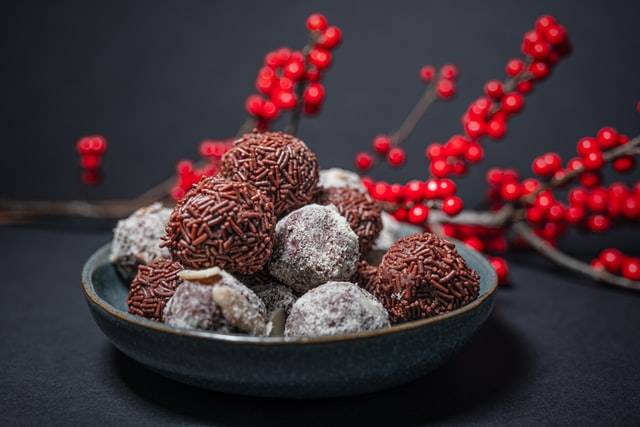 Makes about 40 cookies.
Ingredients
1 cup coconut oil or dairy-free butter
1 tsp vanilla extract
¼ tsp almond extract (optional)
½ cup coconut sugar (stevia or monk sugar may be substituted)
2 ¼ cups almond flour or gluten-free flour
¼ tsp salt
½ tsp ground cardamom
½ tsp pumpkin pie spice blend
½ tsp cinnamon
¾ cup chopped toasted nuts of your choice (hazelnuts, walnuts, pistachios, pecans or a blend!)
'Snow'
⅓ cup sifted powdered sugar
Edible decorating glitter or sprinkles (I use red and green)
Steps
Beat butter or coconut oil, sugar, and extracts until creamed.

Slowly stir in salt, spices, and sifted flour.

Add in chopped nuts.

Chill the dough for at least 30 minutes.

Preheat the oven to 350 F.

Roll dough into little balls, around 1-inch.

Bake on an ungreased cookie sheet for 15 minutes or until the tops are golden brown.

Meanwhile, mix powdered sugar with edible glitter of your choice - I do three separate bowls: green, red, and plain white (no glitter) for a festive visual.

Roll the balls into the powdered sugar mixes - make sure to do this while the cookies are still warm so that the sugar melts and sticks to the cookie.

After the cookies cool you can roll them in the leftover powdered sugar mix.

Enjoy!
Since they are vegan, these cookies have a long shelf life. Enjoy within 2 weeks of baking. Stores best in a sealed container or on a plate by the fireplace for Santa.