Yoga in the western world has a reputation of being an activity and lifestyle embraced mostly by women, thanks in part to the success of feminine-focused brands like Athleta and Lululemon. A 2016 "Yoga in America" study by Yoga Journal and Yoga Alliance found that 78% of U.S. yogis were women, indicating that the perception was true. A disproportionate number of men did not do yoga regularly.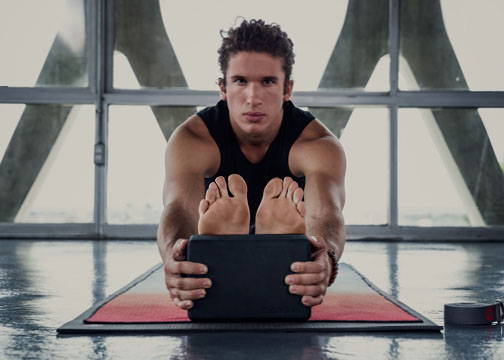 That hasn't been the case historically on the other side of the globe. Yoga took root in India and at first was practiced exclusively by Brahmins, the wise priests of the caste system who were revered as men of learning. Later in history, T. Krishnamacharya, deemed "father of modern yoga," created a combination of traditional asanas, Indian wrestling, and western gymnastics for young Indian males. Female students were not accepted at the time. He later mentored B.K.S. Iyengar, founder of the Iyengar method, and Indra Devi, his first female student, who was instrumental in bringing yoga to Hollywood in the 1940s.
The first written representation of yoga practice and philosophy, Yoga Sutras of Patanjali, was created by a man. This collection of 196 Sanskrit sutras, which can be likened to proverbs or adages, was translated into approximately 40 Indian languages plus Old Javanese and Arabic in the medieval era, making it the most-translated Indian text of the time. Swami Vivekananda, an Indian Hindu monk, was partly responsible for the sutras regaining popularity again in the late 19th century as he introduced Hinduism to the west. Patanjali's work saw a major comeback in the 20th century, and remains popular to this day.
Some of the most well known names in yoga today are men. Despite some questionable behavior and his leaving the U.S. permanently in 2016, Bikram Choudhury's hot yoga is familiar to millions. His worldwide teacher trainings were still selling out in 2019, and other studios have modified the Bikram routines to offer hot yoga programs of their own, citing its amazing detox benefits.
Our yang counterparts still contribute to yoga culture in the 21st century. When I was doing my aerial yoga certification I was pleasantly surprised to learn that the creator of anti-gravity, or aerial, yoga is also a dude! Christopher Harrison, an American dancer, acrobat, and fitness instructor, invented the spine-decompressing, nervous system-calming format that started my yoga journey. Yoga Horse Tribe, in southern Deschutes County, Oregon, was founded by Chris Edwards and his wife Maritza, who blend humans and horses for a special yoga experience.
So, thanks, guys. We recognize what you've brought to the table.
And, please realize that we ladies want you in our classes. We don't think you're less manly for joining us, and no one is critiquing your lack of flexibility. Especially during these times of stress and division, we welcome you and applaud your commitment to mental and physical wellness. Equal parts yin and yang can bring healing to the world, and it can start in our studios.
By Heidi Drake; All Rights Reserved @2020