Pick your favorite organic protein, be it meat or plant-based, and in under 30 minutes you'll be serving up these yummy bowls to your thankful crew. Easy to customize to your liking (we double it in our house for leftovers).
Ingredients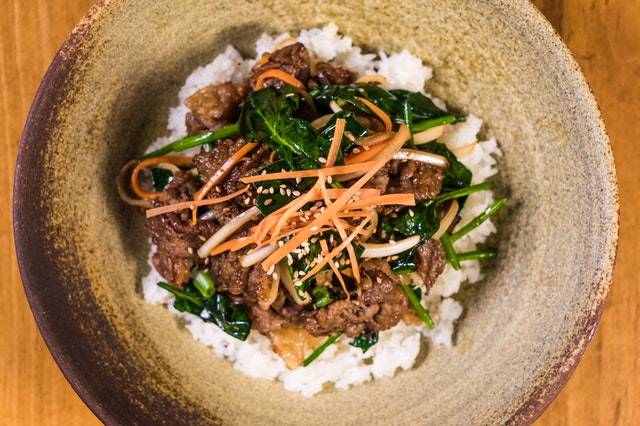 1 lb. organic protein of your choice (locally sourced ground beef/venison, chicken, tofu, vegan crumble, etc.)
3 minced organic garlic cloves
¼ cup packed organic dark brown sugar (I love the  Wholesome brand)
¼ cup organic coconut amino
2 tsp organic sesame oil (Tip: keep your sesame oil in the fridge for best freshness)
½ tsp minced fresh organic ginger
¼ tsp organic crushed red pepper flakes or sambal oelek chili paste
¼ tsp organic black pepper
2 cups hot cooked organic rice, white or brown
Sliced organic green onions/chives/leeks (choose one or mix them) and toasted organic sesame seeds for garnish
Instructions
Cook protein and garlic in a large wok or skillet until done (heat and time will depend on protein used)

In a small-medium bowl, whisk brown sugar, coconut amino, sesame oil, ginger, red pepper flakes/sambal oelek, and black pepper. Add to your protein and simmer 1-2 minutes.
Traditionally, the mix is served over rice, with a green onion/chive/leek and toasted sesame seed garnish. Steam or roast a combo of your favorite veggies for a perfect side dish. Going keto or watching your carb intake? The protein mix is a great lettuce wrap filling too! (Or mix with the rice and enjoy as a wrap.)
** This is a modified version of the Korean Ground Beef and Rice bowls recipe from  The Recipe Critic. Props and thanks to Alyssa Rivers for the inspiration.