Confession: I never thought I'd survive without my daily 1-2 cups of coffee. Ever. But once it became apparent that my stomach and my nervous system disagreed, I turned to tea and discovered a new world of wildly varying flavors without the jitters and body aches that came with larger doses of caffeine.
Having grown up with my Dutch-Indonesian Oma always brewing black tea with liberal amounts of white sugar, I truly had no idea how unlimited (and healthy) combinations of leaves, flowers, herbs, and fruit could be - and how much fun I might have creating new concoctions.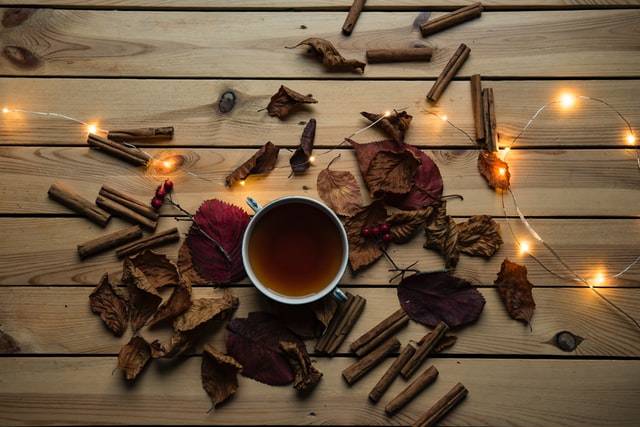 Method 1: Combine pre-made tea bags.
Steep bags together (say a black tea + an orange spice or a green tea + lemon chamomile), or disassemble them and put equal parts in a tea strainer. Easy for kids or busy adults on the go!
Method 2: Mix dried elements.
Whether you dry your own tea or purchase the items in bulk, it's often less expensive than buying tea bags. DIY tea recipes are easy to find online if you need inspiration.
Dried peppermint, lavender, chamomile, lemons, and ginger can be combined to make different teas, perfect for soothing body and soul. Mix a few staples to create custom tea blends.
One of my favorites, especially during this cooler time of year, is a lovely ginger-turmeric concoction that can be made with fresh or dried versions of these antioxidant-packed roots. I'll go with fresh if I have them on hand, but love the shelf life of the powders.
Ginger-Turmeric Tea:
Bring water to boil in a small saucepan or teapot. Add a cinnamon stick and ground or freshly chopped ginger and turmeric (start with a small amount and then add what you want more of to taste—in my house, every person's version is different). Reduce heat to maintain a low boil and steep for about 10 minutes. Strain and pour tea into your favorite teacup, add a bit of local honey and a lemon wedge. Enjoy!