Parents often ask, "How can I get my children to do yoga?" The reply is always the same, let your children see you doing yoga. Sharing your yoga space is a fun and playful way to spend family time together. Invite them to join you, let go of any ideas of a "perfect" practice, and make room for giggles and wiggles.
Zia's Dragon Family Yoga Sequence: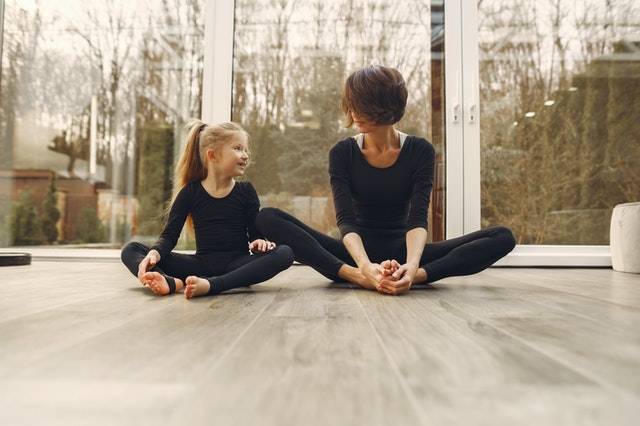 Prepare the space: Arrive at the agreed day and time and begin carefully moving the furniture towards the edges of the room to create a safe space in the center of the room.
Checking in: Using a circle method of leadership sharing, welcome everyone into the space and agree that everyone is there to practice mindfulness. Give everyone the choice to sit quietly aside to take a break if they have a lot of restless energy. They can rejoin when they're calm. Ask a check-in question. Ex. "Welcome to our time for mindful movement. Right now I feel happy that you are here today with me. Who will share how they feel next?"
Center Breathing: Sitting criss-cross-applesauce, sweep arms up to the ceiling and breath in. Exhale hands down to mid-chest, while making a buzzing bee sound. Repeat three times.
Sitting Warm up: Twist to one side on the breath in. Stay and breath out. Twist to the other side and inhale. Stay and exhale. Repeat three more times.
Cat/Cow: On hands and knees, breathe in, tip your tailbone up to the sky, and look up for cow. Exhale slowly as you tip your tailbone down, arch your back like a Halloween cat, and look down.